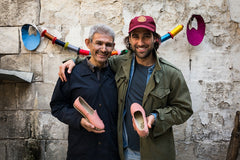 That's me and Ali! In Gaziantep, Turkey back in 2018.
My name is Mickey Ashmore. I'm often referred to as the Sabah Dealer.
I started Sabah out of my apartment in the East Village in New York City. I didn't have a plan, or any fundraising, just several boxes of handmade shoes I loved and a desire to chart my own course.

I'm proud of what Sabah has become — a successful, small business, with various Sabah Houses locations from San Francisco to London and our Sabah Workshops – in Gaziantep, Turkey and El Paso, Texas.
Over the years we have outgrown my home office and our original Turkish workshop and now operate out of a proper office in New York City as well as a new workshop in Gaziantep with a team of nearly 70 and a smaller design studio & workshop in El Paso, Texas with a team of 12.
That growth is inspiring, but I am most proud of the things that have stayed the same: our independent spirit, our commitment to quality craft over quantity, our genuine enthusiasm for hosting customers , and our long-term thinking to deliver high value, be generous and uplift those that we encounter and work with.
However you found us, we offer you a warm welcome... and a bit more about our Sabah story!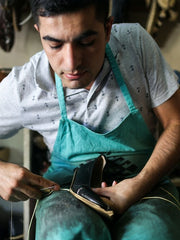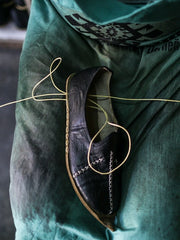 I created Sabah in Summer 2013. I had just moved back to New York City from Istanbul, where I had been living as an expat working for Microsoft since 2010. While there, I was gifted a pair of very curious looking slippers by my then girlfriend's family (similar to the ones above!). Little did I know, that pair of slippers would quite literally change my life.
I wore that original pair almost every day and everywhere I traveled. To work, on weekend strolls around Istanbul, on trips to France & Morocco, I even wore my special slippers with a tuxedo to a fancy Turkish wedding aboard the famous Savarona steamship. They were always a hit — even with the Turks, many of whom were not familiar with this footwear as it wasn't part of modern dress, but rather a relic of the past.

When I moved back to New York City in late 2012, the soles of my slippers had started to disintegrate. The upper leather, not being of the highest quality, was also not looking great. I contacted my friend and through her family learned more about the origin of the slippers I had come to love. I found the best maker of these shoes in Turkey, residing in a town I had never been to, Gaziantep - located in the southeast of Turkey along the Syrian border.
I didn't know it at the time, but his family had been making this style of shoe since the late 1800s. One of the last traditional shoemakers of his kind; and the most well-reputed in Turkey. His name was Orhan. I got his phone number.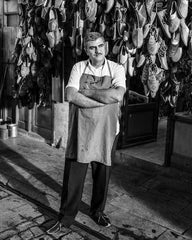 A photo of Orhan, the owner of our Workshop. (2013)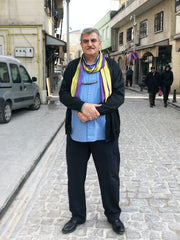 A recent photo of Orhan in Gaziantep, Turkey. (2019)
Through WhatsApp, I suggested he make me a new pair, but with a few modifications. No curly toe, no patterns across the top, and a few other changes to the silhouette and pattern, which I communicated with the Turkish I had learned while living in Istanbul. I was quickly learning new words -- footwear was not a category of vocabulary I studied. I then sent him a really high quality piece of black leather with a beautiful texture and asked him to add a rubber sole to the bottom of the shoe for better grip and durability.
A few weeks later, this special, updated pair of slippers arrived to my office on 57th street. I was working in finance at the time. They fit like a glove. I named this pair after Beirut, the first city that ever felt majestic to me. Beirut Black became my new favorite shoes and were instantly a hit amongst friends too (eventually that single pair traveled with me from Turkey to NYC, from East Coast to West Coast, by car from Marseilles to Venice, all over Europe, and finally to Tokyo... they were on my feet during my first visit to the Conde Nast offices and shared many other countless memories with me). I immediately ordered a few other pairs in different colors.
The word "Sabah" means "morning" in Turkish. I just liked the word and I love the morning.
I found myself gifting them to family, friends and colleagues. I called them Sabahs. The word "Sabah" means "morning" in Turkish. I just liked the word and I love the morning.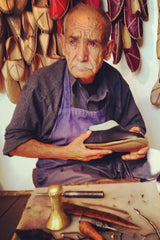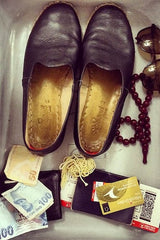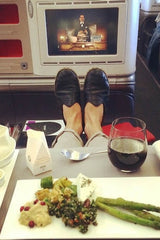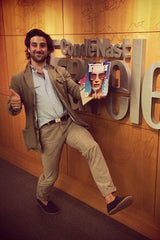 It was now Spring 2013. Restless in my job, I decided this could become a business. So I wrote Orhan requesting my largest order to date (at that time) — 200 pairs in a variety of colors and sizes. I had a local friend source the colorful leathers.

They arrived almost two months later in a few boxes (it was a mess, see below) to my apartment on 12th Street, what became and was for five years Sabah House East Village, our very first store. To sell these first Sabahs, I did one of the things I do best — I threw a party. I opened my home and invited just about everyone I'd ever met in NYC. Come over, have some drinks, hang… and, "By the way — I am now selling shoes too. They're called Sabahs." They sold themselves, as they continue to do — and we still host customers in our Sabah Houses, as if our home is theirs.
And that was how Sabah was born… seven years ago.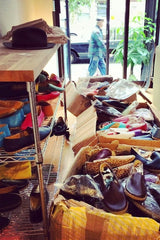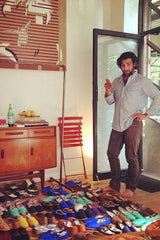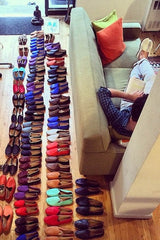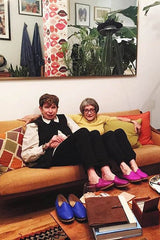 How We Do Business
The origin story of Sabah has continued to be at the core of our business. The majority of our shoes are made with Orhan and his family. Albeit, we've grown from just 5 craftspeople and a couple of stitchers in a small, crumbling house in Gaziantep to being nearly 70 craftspeople in a brand new, cleaner, healthier facility just a couple blocks away. In 2021, we expanded our operations to El Paso, Texas, home of our second Sabah workshop, another facility that celebrates craft and people in the making of high quality goods. We wanted a place that could also be a laboratory and innovation hub — for the testing of new materials and the creation of new silhouettes, and to collaborate with design partners from all over the world and simply to tinker and test. We wanted the new Sabah workshop to complement our amazing craftspeople in Turkey, for there to be dialogue, sharing of ideas, and a melting pot of skills, crafts and talents. Our longstanding Turkish partners were excited.
We've continued to improve our design, quality of materials, fit, and processes to create our own original shoe, the Sabah, while still adhering to the traditional shoemaking techniques and natural materials that make the shoes so great. Every pair is still made entirely by hand, from A to Z, using high quality, leather - that we no longer buy in the market, but have made specifically for Sabah; it is of the best leather one can find. We still sell every pair direct to our customers, one pair at a time, and mostly in-person from one of our Sabah Houses, on the road at our traveling events, and via our website that we call the "Sabah Portal."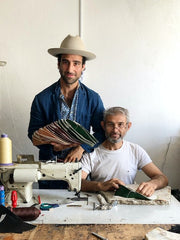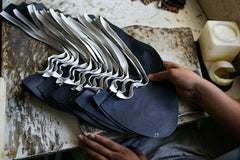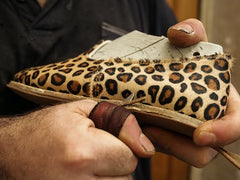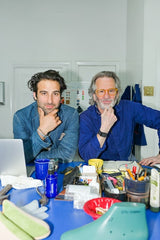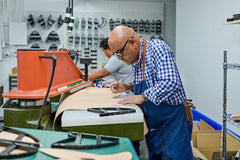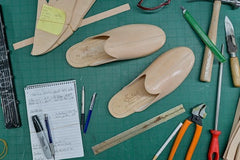 Our goal since day one was not to build the biggest business, but a business with loyal customers who shop with us year-after-year, who we learn to know by name, and often become our friends. We talk a lot about being an uplifting company — through our product, our spirit, our generosity, and the value we create. We hope you feel that when you interact with us and wear our shoes.
And that's all — I encourage you to visit our Craft page to read more about the products we make.
Otherwise, if you have any questions, ideas, feedback, or something to share — you can reach me directly anytime at mickey@sabah.am. I love hearing from our customers and the community.

Sincerely
Mickey Ashmore
Owner, Sabah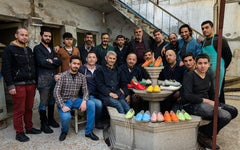 From our Gaziantep Workshop, 2017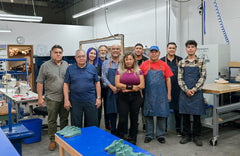 From our El Paso Workshop, 2022